Founder, Principal Investigator

Prof. Richard Connor, UMASS Dartmouth, USA
Richard is a Professor of Biology at the University of Massachusetts at Dartmouth. He obtained his Bachelor's degree from the University of California at Santa Cruz, his Ph.D. from the University of Michigan. After his Ph.D., Richard had post-doctoral appointments at the Woods Hole Oceanographic Institution and Harvard University. He was a fellow at the Michigan Society of Fellows and at the Center for Advanced Study in the Behavioral Sciences at Stanford University.
Prof. Connor co-founded the Shark Bay dolphin research project in 1982 (with Rachel Smolker), is a Principal Investigator of the Dolphin Alliance Project (DAP) and President of an American Foundation, the Dolphin Alliance Project, Inc., that is seeking contributions to continue funding DAP research. The main focus of Prof. Connor's work is dolphin behaviour and the males' alliance relationships. He examines alliance relationships from a broad, comparative perspective and has developed new theory on alliance formation and cooperation in general.
Prof. Connor has published over 80 scientific articles and book chapters on dolphins and his other major interest, the evolution of cooperation and mutualism. His research has been published in top scientific journals (e.g. Nature, Proceedings of the National Academy of Sciences, Proceedings of the Royal Society), featured in television documentaries, including the National Geographic Society's Dolphins: the Wild Side and NOVA's The Private Lives of Dolphins, and reported in major news outlets (e.g. The New York Times, Science Online).
The Dolphin Alliance Project's research has produced important discoveries with profound implications for understanding the evolution of large brains and intelligence, including that in humans. Accordingly, Prof. Connor has been invited to speak to academic audiences in a range of disciplines, including biology, anthropology, psychology and even political science, and at such prestigious institutions as Harvard, Yale, Oxford, the École Normale Supérieure in Paris and the Royal Society of London. He is available for public speaking engagements.
---
Principal Investigator
Prof. Michael Krützen, University of Zurich, Switzerland
Michael is a Professor of Evolutionary Anthropology and Genomics at the University of Zurich. His broad interests are in the social evolution of both primates and cetaceans. Using modern DNA techniques, his work focuses on relationships among cooperating individuals, measuring the number of paternities, and trying to link genetic population structure with social correlates. Prof. Krützen's group at the University of Zurich also work on the demographic reconstruction of animal populations and delineation of conservation units.
Prof. Krützen has also been fascinated by the study of how knowledge is transferred in primates and cetaceans. His work on social transmission of tool use in dolphins in Shark Bay and orang-utans in Borneo and Sumatra has helped further our understanding of how culture has evolved in humans.
Recently, Prof. Krützen's group has employed population genomics approaches to identify the genetic signatures of adaptive evolution in orang-utans and dolphins. Using landscape genomics approaches, this work aims to disentangle adaptive evolution from non-adaptive processes, such as genetic drift, by taking into account demographic, stochastic and environmental processes.
---
Principal Investigator
Dr. Simon Allen, University of Bristol, UK (University of Zürich, University of Western Australia)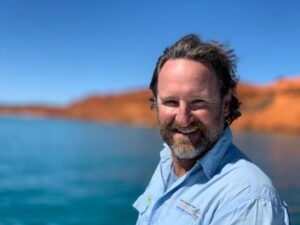 Simon is a Senior Lecturer at the University of Bristol, a Research Associate at the University of Zurich, and an Adjunct Research Fellow at the University of Western Australia. His research interests include the social and foraging behaviour of dolphins, and assessing the impacts of fisheries, tourism and climate breakdown on marine fauna. Improved wildlife conservation and better management of the ways in which humans interact with wildlife are the end goals.
Dr. Allen has thus far published over 60 scientific articles (as well as a few book chapters and species accounts) on dolphins, whales, reptiles and other fauna. He first ventured to Shark Bay in the year 2000, was left in awe, and has been returning ever since.
Simon is a PI at Shark Bay Dolphin Research, an obsessed field biologist, photographer and drone pilot, and now often works with production companies and film crews in order to spread the good word about the natural world. You can follow his occasional rants about politics, the environment or how much he loves dogs on Twitter: @SimonJAllen1. 
---
Principal Investigator
Assoc. Prof. Stephanie King, University of Bristol, UK

Stephanie is an Associate Professor in Animal Behaviour at the University of Bristol, UK. She is also an Adjunct Research Fellow at the University of Western Australia. Her research interests lie in understanding the role vocal communication plays in mediating complex social behaviours, such as cooperation, in animal systems. The nested structure of male alliance formation found in the Shark Bay dolphin population provides a unique opportunity to understand the interplay between vocal communication and cooperative strategies. Her group uses techniques such as hydrophone arrays, overhead video and sound playback experiments to explore the role of communication in the formation and maintenance of male alliances, and the communicative strategies these males employ when making decisions of when and with whom to cooperate.
Much of Dr. King's work involves using long-term behavioural data, alongside logistically challenging field experiments, to address questions on the evolution of identity signalling in the animal kingdom, mechanisms underlying polyadic cooperation, and the consequences of anthropogenic disturbance on marine mammals. Dr King regularly publishes in high-ranking journals aimed at generalist audiences, as well as top specialty journals, such as Proceedings of the National Academy of Sciences, Current Biology, Nature Communications, Methods in Ecology and Evolution and Proceedings B.

Dr. King's research has received worldwide media coverage and has been the focus of TV documentaries such as BBC's Britain's Secret Seas (2011),  Winterwatch (2014) and Chris Packham's Animal Einsteins (2021), radio broadcasts (BBC, ABC and NPR), and has featured in many high-profile science magazine articles (e.g. New Scientist, Scientific American, Science Magazine, and National Geographic, amongst many others).
Twitter: @_StephanieLKing
---
---
Research Associates
Dr. Livia Gerber, University of New South Wales, Australia
Livia is a post-doctoral fellow at the University of New South Wales and a research associate at the University of Zurich. Her research interests are focused on the evolution of cooperation and social bonds. For her studies, she combines (epi)genetic and long-term behavioural data. For her PhD, she demonstrated that male-male social bonds are connected to direct fitness benefits. Currently, she investigates the influence of reproductive and social factors on ageing in bottlenose dolphins.
Dr. Katharina Peters, University of Zurich, Switzerland
Katharina is a behavioural ecologist with a particular fascination for marine mammals. Her research interests lie at the interface of animal behavior and distribution, population ecology and evolutionary biology and how to apply this information to better manage the conservation of wild populations and their associated environments. Her project synthesizes unparalleled genomic and behavioural data of bottlenose dolphins  spanning 35 years, to compare lifetime reproductive success of males and females. Recent advances in statistical methodology and genomic analyses of wild animal populations allow us to integrate molecular age determination via epigenetic DNA methylation patterns with long-term behavioural and genetic data.
Dr. Delphine Chabanne, University of Zurich, Switzerland
Delphine's research interests have primarily focused on understanding population ecology and genetics of coastal and estuarine dolphins. She completed her PhD thesis in July 2017, in which she assessed the demographic, social and genetic structure of Indo-Pacific bottlenose dolphins inhabiting coastal and estuarine waters of Perth, Western Australia. She has assisted on a number of projects involving coastal dolphin species around the vast Western Australian coastline.
---
---
PhD Candidates
Samuel Wittwer
PhD candidate,Department of Anthropology, University of Zurich, Switzerland
Sam uses genomic methods to study variation both within Shark Bay and broadly along the Western Australian coastline. His project focuses on demographic reconstruction of the coastal colonization history which not only helps us understand how and when different dolphin populations were established, but also informs us about the degree of genetic connectivity between them.
Kathryn Holmes
PhD candidate, School of Biological Sciences, University of Western Australia, Australia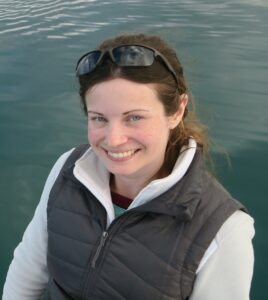 For her PhD Katy is investigating the ontogeny of alliance formation in the Shark Bay dolphin population. She is focusing on the development of vocal and physical behaviours that mediate social bonds, and investigating how social development during the juvenile period shapes the formation of these alliances and affects the future social roles and fitness of individual males.
Pernille Meyer Sørensen
PhD candidate, School of Biological Sciences, University of Bristol, United Kingdom

For her PhD, Pernille is investigating the ecological, social and anthropogenic drivers that may influence the evolution of communication systems and cooperative behaviour. She is measuring ambient noise, sound propagation and source levels of dolphin vocalisations in Shark Bay to understand how spatio-temporal variations in detection range across habitat types affects alliance behaviour and mating success.
Manuela Bizzozzero
PhD candidate,Department of Anthropology, University of Zurich, Switzerland

The social structure and space use of dolphins differ with varying food availability and predation risk. For her PhD project, Manuela will use remote sensing satellite data to characterize different habitat types, and environmental DNA to investigate how food availability changes across the seascape. This will allow her to investigate how differences in food availability affect the social structure and habitat use of bottlenose dolphins.
Svenja Marfurt
PhD candidate, Department of Anthropology, University of Zurich, Switzerland

For her PhD, Svenja will use a seascape genomic framework that integrates large-scale environmental variables with high quality genomic data to investigate how Indo-Pacific bottlenose dolphins along the west coast of Australia have adapted to past environmental heterogeneity and to what degree their current genetic diversity will allow them to adapt to future environmental changes.
Riccardo Cicciarella
PhD candidate, Department of Anthropology, University of Zurich, Switzerland
Male alliances in Shark Bay coerce females for mating opportunities and defend them from rivals. This is costly for both sexes: females are hindered from foraging when sequestered away from their primary habitat, while males are in constant competition with other alliances. For his PhD, Riccardo will use unoccupied aerial systems (UAS) to remotely measure different indices for body conditions of bottlenose dolphins and investigate the energetic costs of sexual coercion and male-male competition.
Laura Palmer
PhD candidate, School of Biological Sciences, University of Bristol, United Kingdom
For her PhD, Laura will explore vocal complexity in Tursiops sp. The Shark Bay dolphins are a model system in which to examine potential ecological and social drivers of vocal communication complexity. Within the population, there are differences in social structure and habitat configuration, which are posited to drive variation in whistle structure. Laura will use long-term acoustic data to test the acoustic adaptation hypothesis and the social complexity hypothesis for communication complexity as drivers for variation in vocal complexity.
Felix Smith
PhD candidate, Department of Anthropology, University of Zurich, Switzerland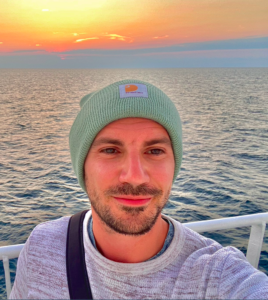 For his PhD, Felix will use long-term behavioural and demographic data to investigate the extent rapid environmental change has impacted behaviour and life history parameters in Shark Bay's bottlenose dolphin population and to what degree bottlenose dolphins, known for their behavioural flexibility and innovation, are able to mitigate environmental changes behaviourally. He will also model the long-term viability of the population the face of ever accelerating environmental changes.
Stephanie Mason
PhD candidate, School of Biological Sciences, University of Western Australia, Australia

For her PhD, Stephanie is comparatively investigating the ontogeny of vocal complexity in the WA magpie (with Assoc. Prof. Amanda Ridley) and the Indo-Pacific bottlenose dolphin. While vastly different in many ways, these two species show interesting parallels in both their complex communication and social systems. With the Shark Bay dolphins, Stephanie will look at the development of social vocalisations in calves and juveniles and investigate how the social-vocal environment influences the formation of these unique signals.
Emma Chereskin
PhD candidate, School of Biological Sciences, University of Bristol, United Kingdom
Human cooperation is thought to be mediated by language, a low-cost form of communication of virtually unlimited complexity. However, emerging research suggests that great apes and cetaceans also engage in higher order, polyadic cooperative acts that appear to rely on communicative signals. For her PhD, Emma will use field-based manipulations using state-of-the-art technology (integrating drones and playback experiments) to determine the role that vocal signals play in coordinating polyadic cooperative acts among male dolphins.
---
---
MSc Students
Julia Weidmann
M.Sc. candidate, University of Zürich, CH
Julia graduated from the University of Zürich with a BSc in Biology. For her Master's thesis, Julia will investigate alliance structure of male bottlenose dolphins in the western gulf of Shark Bay and compare it to the east. As a second part of her project, Julia will apply Y-chromosomal genetic markers to investigate male population structure and resolve paternities.
---
---
External Collaborators
Dr. Sonja Wild
Postdoctoral Researcher, University of Konstanz & Max Planck Institute of Animal Behavior, Germany
Dr Sonja Wild is a postdoctoral researcher at the University of Konstanz & Max Planck Institute of Animal Behavior in Radolfzell, Germany, studying conditions that trigger switches from established to alternative behaviour in a social context using small passerine birds as a model system. Her main research interests lie in the mechanisms underlying the spread of behaviour in wild animal populations and how animals respond behaviourally to changes in the (social and physical) environment. For her MSc degree at the University of Zurich (Switzerland) and her PhD at the University of Leeds (UK), Sonja spent 7 field seasons in Shark Bay to investigate the spread of foraging behaviour in the dolphin population by integrating behavioural, environmental and genetic data. She also investigated the impacts of a marine heatwave on the population's demography.
Rachel Smolker, PhD (co-founder of Shark Bay dolphin research with Richard Connor in the early 1980s)
Acoustic communication of bottlenose dolphins
PhD thesis, University of Michigan, Ann Arbor, USA
Amy Samuels, PhD (great field biologist and dearly missed mentor, colleague and friend)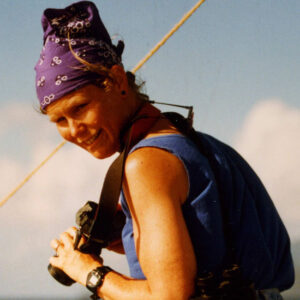 Woods Hole Oceanographic Institute
Memories: Amy Samuels
Coco Ackermann, MSc
Contrasting vertical skill transmission patterns of a tool use behaviour in two groups of wild bottlenose dolphins (Tursiops sp.), as revealed by molecular genetic analyses
MSc thesis, University of Zurich, Switzerland
Kathrin Bacher, MSc
The evolutionary and ecological mechanisms underlying the rise of material culture in bottlenose dolphins (Tursiops sp.) in Shark Bay, Western Australia
MSc thesis, University of Zurich, Switzerland
Lynne Barre, MSc
Dedicated field biologist in the 1990s and coauthor of several important papers with Prof. Richard Connor.
Lars Bejder, PhD   
Linking short and long-term effects of nature-based tourism on cetaceans
PhD thesis, Dalhousie University, Canada
Manuela Bizzozzero, MSc
Alliance formation and sponge tool use in male bottlenose dolphins (Tursiops sp.)
MSc thesis, University of Zurich, Switzerland
Riccardo Cicciarella, MSc
Long-term movements of Shark Bay bottlenose dolphins
MSc thesis, UMASS Dartmouth, USA
Whitney Friedman, PhD
Social and Cognitive Complexity in Wild Bottlenose Dolphins (Tursiops sp.)
PhD thesis, University of California, San Diego, USA
Livia Gerber, PhD
The Influence of Social and Genetic Relationships on Cooperation in Male Bottlenose Dolphins
PhD thesis, University of Zurich, Switzerland
Maja Greminger, PhD
The quest for the Y ─ Development and application of male-specific markers in orangutans (Pongo spp.) and bottlenose dolphins (Tursiops spp.)

MSc thesis, University of Zurich, Switzerland
Alexander Heer, MSc
Identification of Y-chromosomal genetic markers in Indo-Pacific bottlenose dolphins (Tursiops aduncus)
MSc thesis, University of Zurich, Switzerland
Mike Heithaus, PhD
PhD thesis, Simon Fraser University, Vancouver, Canada
Kay Horlacher, Msc
Reproductive success in male bottlenose dolphin alliances in Shark Bay, Western Australia
MSc thesis, University of Zurch, Switzerland
Stephanie Kalberer, MSc
Relatedness patterns in male bottlenose dolphin alliances in Shark Bay, Western Australia
MSc thesis, University of Zurch, Switzerland
Natalie Kelpacova, MSc
Investigating the effects of climatic variability on long term behavioural activity budgets of Indo-Pacific bottlenose dolphins (Tursiops aduncus) in Shark Bay, Western Australia
MSc thesis, University of Bristol, UK
Anna Kopps, PhD
Ecological, social and genetic forces shaping behavioural variation in bottlenose dolphins
Ph.D. thesis, The University of New South Wales, Sydney, Australia
Who is the one? Paternity assessment in bottlenose dolphins (Tursiops sp.) – a species with multi-level alliances
MSc thesis, University of Zurich, Switzerland
Sina Kreicker, MSc
Culturally transmitted tool use in bottlenose dolphins (Tursiops sp.) – utilization of an unexploited niche?
MSc thesis, University of Zurich, Switzerland
Svenja Marfurt, MSc
Using social network analysis to investigate association patterns and community structure of female Indo-Pacific bottlenose dolphins (Tursiops aduncus)
MSc thesis, University of Zurich, Switzerland
Oliver Manlik, PhD
Fitness and major histocompatibility complex diversity of two bottlenose dolphin populations
PhD thesis, University of New South Wales, Australia
Séverine Miszak, MSc
Population Genetics and Phylogenetic Analyses of Australian Bottlenose Dolphins (Tursiops spp.) using reduced representation libraries
MSc thesis, University of Zurich, Switzerland
Bronte Moore, MSc
Vocal synchrony in allied male Indo-Pacific bottlenose dolphins (Tursiops aduncus)
MSc thesis, University of Western Australia, Australia
Alexander Nater, PhD
New microsatellite markers in orang-utans (Pongo spp.) and bottlenose dolphins (Tursiops spp.)

MSc thesis, University of Zurich, Switzerland
Krista Nicholson, MSc
Abundance, survival and temporary emigration of bottlenose dolphins (Tursiops sp.) in the Western gulf of Shark Bay, Western Australia

MSc thesis, Murdoch University, Perth, Australia
Orla O'Brien, MSc
Alliance-specific habitat selection by male dolphins in Shark Bay, Western Australia
MSc thesis, UMASS Dartmouth, USA
Haley Pedersen, MSc
Population level assessment of BaitSTR performance – a test case in deep-pedigree reconstruction of Indo-Pacific bottlenose dolphins using genomic microsatellites
MSc thesis, University of Zurich, Switzerland
Srđan Randić, MSc 
Spatial analysis of distribution and home ranges of male bottlenose dolphins in Shark Bay, Australia.
MSc thesis, UMASS Dartmouth, USA
Andrew Richards, PhD
Life history and behavior of female dolphins (Tursiops sp.) in Shark Bay, Western Australia
PhD thesis, University of Michigan, USA
Luca Scheu, MSc
Age estimation based on DNA methylation patterns in Indo-Pacific bottlenose dolphins (Tursiops aduncus)
MSc thesis, University of Zurich, Switzerland
Rufus Sowerbutts, MSc
Social drivers of signature whistle complexity in bottlenose dolphins
(Tursiops aduncus)
MSc thesis, University of Bristol, UK
Julian Tyne, PhD
Does sponge distribution lead to sponging behaviour by bottlenose dolphins in Shark Bay?
BSc(Hons) thesis, Murdoch University, Perth, Australia
Sonja Wild, PhD
Social transmission of foraging behaviour in bottlenose dolphins and its interplay with climate change
PhD thesis, University of Leeds, UK