Four months of fieldwork in the western gulf of Shark Bay saw generally poor field conditions in terms of wind and rain, but solid data collection none-the-less for both Ph.D. student Sonja Wild and Dr. Stephanie King. A big thanks to Research Assistants Helen Hiley, Sara Niksic, and Rebecca Cope for their time and effort. Following are some happy snaps from the season:
Stormy weather…
A golden trivially makes its way up the food chain…
Sherman shows off his healed shark bite and scans the shallows for fish…
Caipirinha struts his stuff in front of a young male…
Humphrey the Wonder Spaniel considers joining a male alliance…
Pinata shows off her newborn calf…
Relaxing (snagging) with friends in Blind Strait…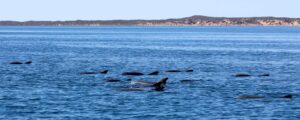 Little fins; big fin…
Sublime South Passage…
Sunset on salt, the young Seamen and season #10…
Watch this space for an update on the Dolphin Alliance Project's 35th (!!) field season.