The western gulf field season has kicked off with a ba… aad stretch of windy weather. Low-pressure system after low-pressure system in the aptly named roaring 40s to the south of the Land of Oz have meant the infamous 'sausage highs' over Shark Bay and the associated howling sou-easters. So much for the magnificent 'May in the Bay'!
On the positive side though, the team was well and truly ready to roll when the first lull appeared. We scored four days, or part there-of, in a row, and made data collection happen while the sun shone.
We ventured into the Denham Channel just southwest of the ship loader on the first afternoon out. What started as an encounter with a single adult male dolphin soon turned into 26 animals, including members of four different male alliances and a few females. Cameras snapping, hydrophones in, dolphins a-socialisin'!
1. A socialising sub-group of Shark Bay dolphins.
Conditions seemed to favour a look in Useless Inlet the following day… we were duly rewarded after a few surveys, finding the famous William the Concherer (yes, yes, we now know they're not conches, but it sounds a whole lot better than William the Shellerer!). As the Inlet went to a glass out, the first focal follow of the season saw constant foraging, and several shelling events. Some hours later, we returned to the boat ramp at Cosy Corner, the evening sun casting glorious light. There is nothing Useless about this Inlet (unless, of-course, you're a colonial white fella in desperate need of fresh water).
2. William forages in Useless Inlet; 3. Bellefin and Heirisson Prongs float atop a horizonless bay.
The next day saw some surveys of the usual suspects in the shallows north of Heirisson Prong, before we again found ourselves in the Inlet. Plenty of action followed, including foraging dolphins (and cormorants), a male alliance moving in on some females and calves, and the satisfaction of lengthy focal follows with cameras, hydrophone array and the helikite deployed.
4. Not cat and mouse, but dolphin and fish; 5. A cormorant tastes success too.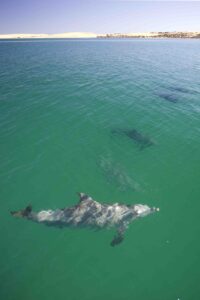 6. Five for fighting
7. The team at work (Helen Hiley, Sonja Wild and Dr. Stephanie King), not fishing but ballooning; 8. Our trusty helikite/balloon ("Phileas Fogg") with GoPro attached.
The last of our four data days involved more Shark Bay magic: dolphins, turtles, dugongs, cormorants, pelicans, a couple of hammerhead sharks… having now been off the water due to another five days of wind though… well, tomorrow is a new day.
9. The stuff that prompts action stations when we're on a follow – the approach of potential allies; 10. Said allies travel south with Dirk Hartog Island as the backdrop.
Stay tuned for more updates!