This is more quick-photo-update than information-loaded-blog, but suffice to say that the weather has not been particularly predictable. We have concluded, based on a respectable sample size, that working for the Bureau of Meteorology (or indeed holding down any sort of weather predicting job) is clearly one of the best jobs in the world, since one can be completely wrong on a day to day basis, yet still get paid!
Enough of the whining though: we have exploited the good hours to the fullest, more team members arrived (now Stephanie, Sonja, Helen, Simon, Livia and Michael – so we could double the efforts with two teams on the water), and the data is rolling in: photo-ID surveys up over 150 already, into the double figures for focal follows (most with acoustic recordings and some helikite-cam footage), and the team and equipment functioning supremely well. We've said goodbye to Michael (too soon), but will have Sam on-site shortly (not soon enough!).
Following is a little photo story of the past few weeks. Disclaimer: Obviously the selection is somewhat biased toward when we've had smooth seas. We're assuming no one is particularly interested in seeing whitecaps in the channel, fog and rain, or us tapping away in the office.
Featured image: A trio of allied males 'snagging' in the channel;
1. The kind of morning that holds considerable promise;
2. Humphrey the Wonder Spaniel assists with setting up the helikite and hydrophones;
3. The team survey 'KAN' the dolphin in the shallows north of the salt loader;
4. 'JUL', the occasionally shelling ol' fella, up on the flats;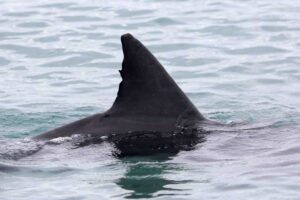 5. The team on a five hour focal follow in magic conditions;
6. The team north of Heirisson and Bellefin Prongs following bad-boy 'Kah-NUUUt';
7. 'RAD', the sea grass and the salt;
8. <sigh> 'RAD' in the Shark Bay aquarium… only better, because the only walls are those in RAD's imagination;
9. Sublime sunset after a few epic days on the bay;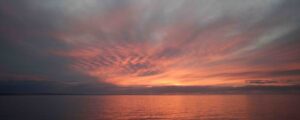 10. Sometimes too much kit is never enough (but we do have several gulfs to cover!);
11.  Some channel boys and the Useless Loop salt mountain;
12. The gorgeous 'SUN', foraging with a sponge and keeping her 3-day-old newborn close;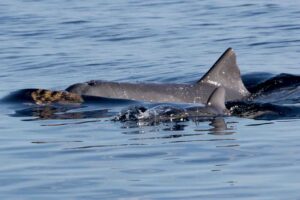 Onward into June (if it could please stop raining).