The Shark Bay Dolphin Research Alliance field teams have now been back on the water for a month or so in Western Oz. This surely makes it time for a pictorial update of the first successes in pursuit of data on dolphins.
First things first, having kicked off in 1982, the Dolphin Alliance Project turns a healthy and productive 35 years old this season. Happy 36th field season DAP!
When packing for the field, there were a couple of team mascots a little concerned about whether or not they were joining us…
Indeed this day of departure image was no set-up – the door was left open and we came out to the project ute to find these rascals staking their claim…
One team went East (to Monkey Mia) with the hounds, while the other went West (to Useless Loop) with new team members and a recently serviced 'Squidward'…
The Dolphin Alliance Project got amongst the action early, with popping males and foraging females on a glassy morning out…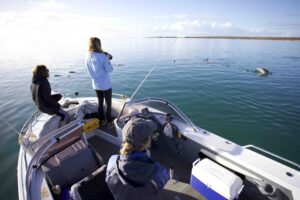 The Dolphin Innovation Project got sampling on some glassy evenings in Useless Inlet…
And while Sonja did all the work driving and retrieving boats, Nahiid got busy with some serious shell photography (what a trooper!)…
Ol' Bytfluke, the sponging grandmother, chasing brunch in a channel off Monkey Mia…
A trio of adult males from the 2nd-order alliance, the 'Kroker Spaniels', snagging near the pearl farm in Red Cliff Bay…
More of Stephanie's acoustic targets, some of the 'Hooligans' alliance snagging in Whale Bight…
A beautiful young lady, Dokley, bow-riding in the shallows off Useless Loop…
Here is the delightful sponger Daiquiri in the Denham Channel, 2007…
And here she is, same fin, same old shark bite, same behaviour, same place, 2017…
Everyone's favourite, the little boat-friendly Kimo in Useless Inlet…
And Kimo making photo-ID easy…
For those champing at the bit for an update on Osmo, the King of the Inlet, who lost his dorsal fin in a big fight over a female in 2016…
Here he is in 2017, looking cool, calm and healed…
And speaking of legends, here is the 'Silver Bullet' towing 'Spongebob' in the inaugural Dolphin Innovation Project season, 2007…
The end of an era, the last time the Bullet is used to launch the Bob before being handed over to a new owner (no, Silver Bullet has NOT crossed the rainbow bridge just yet)…
Of course, being in Shark Bay means some pretty sunsets. Sometimes it is important to ignore the rule of thirds…
Sunsets AND dolphins…
AGAIN!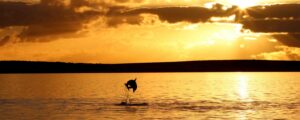 In case people are getting bored with dolphins and sunsets, here are some BUDGIES!
For the picky/pedantic/thorough folk out there: photo credits go to the likes of Stephanie King, Nahiid Stephens, Sonja Wild and I of the Shark Bay Dolphin Research Alliance (Dolphin Alliance Project and Dolphin Innovation Project); image collection and other sampling/research was carried out under permit from WA Dept of Parks and Wildlife; and no doggies, dolphins or budgies were harmed in the making of this blog.