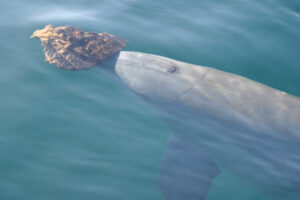 The Dolphin Innovation Project was initiated in 2007 to investigate, for the first time, tool use by dolphins in the western gulf of Shark Bay. In keeping with our name, we seek to combine both established and innovative techniques in studying some of the ocean's most innovative inhabitants.
The Dolphin Innovation Project confirmed that social learning via cultural transmission, rather than gene variation, is a primary driver of tool use ("sponging") in dolphins. Using sponges as foraging tools, dolphins are able to gain access to sources of food that dolphins without this know-how cannot access.
During our first field season at this site, we captured the first photographic evidence that revealed the function of "shelling" – another remarkable foraging specialisation. Some dolphins have developed the skills necessary to lift large trumpet or baler shells to the surface, shaking them about until the water drains out and the hapless fish hiding inside falls into their mouths.
The intriguing social politics first discovered by the Dolphin Alliance Project in the eastern gulf of Shark Bay can be witnessed in the western gulf, where we have identified and continue to study numerous first- and second-order alliances of males.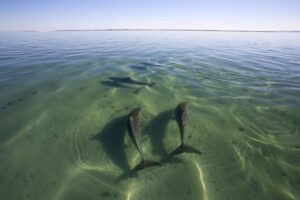 The first dozen field seasons with the Dolphin Innovation Project has yielded nearly 6,000 dolphin group surveys, formed the basis of 10 post-graduate theses, and we've had a dozen peer-reviewed journal articles published thus far.
2019 will bring our 13th field season, and a year in which the Dolphin Innovation Project will be extending its sampling regime and publishing our most recent findings…. watch this space!