Happy 2018! Time for a quick update: The last year has been a productive one for the Shark Bay Dolphin Research Alliance (SBDRA), with successful field seasons in both eastern (#36!) and western (#11) gulfs, a solid showing at the 22nd Biennial Conference in Halifax, Nova Scotia, and a number of papers published.
With field seasons wrapped up, we went on our way to Canada for the conference. Quite a few of us shared flights with other members of the group, plus colleagues from other labs. In various airports, we'd find the time to catch up and talk marine mammal science… oh wait. No, we wouldn't. We'd just stare at our mobile devices…
Members of the SBDRA gave eight oral presentations and one poster presentation…
We also had a lovely 'Friends of Shark Bay' dinner for a gaggle of researchers past, present and future…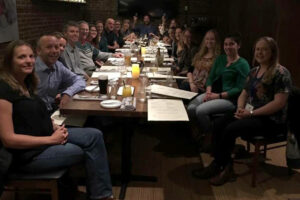 Amongst a few others, we published a paper on male alliance behaviour and mating access in the open social network of Shark Bay's bottlenose dolphins (http://www.nature.com/articles/srep46354) in Nature's Scientific Reports.
Also in Scientific Reports, another on sexual displays involving posturing and sponge presentation by male Australian humpback dolphins across north-western Australia (http://rdcu.be/w3tL).
There are so many intriguing parallels in behaviour and social complexity that exist between some of the cetacea and the great apes, but who would have thought that one charismatic, tool-using species might remain undiscovered until late 2017!? Congrats to Michael and colleagues on this wonderful result: http://www.cell.com/current-biology/fulltext/S0960-9822(17)31245-9.
2018 is shaping up to be a bumper year for papers and fieldwork. We look forward to sharing it with you, so stay tuned…