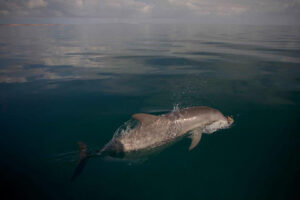 The 2015 field season, with researchers Sam Wittwer and Teresa Borcuch on the Monkey Mia side (Dolphin Alliance Project) and Livia Gerber and Sonja Wild on the Useless Loop side (Dolphin Innovation Project), has been successfully kicked off.
Both teams (including PhD students, Masters students and volunteers from four different countries) will stay in the field until mid-October, collecting photo-identification, behavioural and genetic data. They'll see oh-so-many dolphins, fascinating foraging and complex cooperation and competition… not to mention flying fish, sharks, rays, dugongs, turtles, birds, sea snakes, sun rises, sunsets and so on.
Interested in joining as a volunteer in future years? If so, please contact Michael, Richard or Simon.